Kick Boxing Xtreme (KBX) is a cardio and strength training program with 45-minute classes including Kickboxing, H.I.I.T workouts, KickBox Bootcamp, Kettlebells, Endurance Cardio, Cross Training and more! Check it out here. All fitness levels are welcome and you can start at anytime!
KBX classes are offered Monday/Wednesday 5:30am, 11:30am and 4:30pm and Friday 5:30am and 11:30am.
What to expect in class: 
Limit of 24 members per class.
We'll be taking all necessary precautions in regards to social distancing and cleaning equipment to keep everyone safe.
Members are encouraged to clean equipment prior to use and are required to clean all equipment after use.
Participants will need to bring their own gloves to class.
No loaner gloves available at this time.
Shoes must be worn at all times.
NEW to Kickboxing?  Sign up for a personal 101 orientation before getting started. Basic punches and kicks are introduced. Participants receive individual attention to be sure they are using correct form before starting class. Contact Riley to schedule your free KBX 101 orientation.
Pricing Options – Start at anytime. Two options available.
Class Packages – 90 day expiration

10 class packages – $25
20 class packages – $45

Monthly Automatic Withdrawal – $20
How to register online through our member portal for KBX classes:
Log into your account
Click on Group Activities on the home screen
Change "All Events" search bar to Kickboxing then hit search classes
Click green Sign Up button next to classes you wish to register for
Select member you are registering
When finished click "view cart" on top right corner of the screen
Review all classes in cart. Hit submit payment.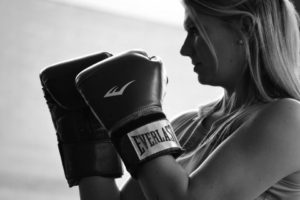 Kick Boxing Xtreme Program Details
45-minute classes
Individual orientation session for new members
Motivation through individual and group challenges offering throughout the year
Heart rate based training available to maximize your workouts
MYZONE Technology will be used during KBX class
Class members may use MyZones MZ-3 physical activity belt- a Bluetooth enabled, heart-rate based effort tracking device during class. Wearing your belt during all activity, inside and outside the club, helps you stay on track and get the results you want.
MyZone can store up to 16 hours of data.
MyZone app is free to download to a personal device.
Cost is $75 for your personal heart rate strap.
Want to know more? Click Here for a short (1:30 min) video that shows the benefits of using the MYZONE MZ-3 Strap in and outside of the class setting.
Still have questions? Click here for more information about the benefits of MYZONE. More helpful links: