All the classes listed on the Group Fitness Schedule are free and included with your monthly membership. Kickboxing and Pilates classes are also offered. Use the Fitness Classroom on your own when not in use. For questions about classes, please call the Front Desk at 319-295-2552.

Athletic Edge 
A 75-minute class designed for runners, cyclists and triathletes. Focuses on training variables that include running and/or cycling to improve your fitness and performance combined with bodyweight exercises to improve strength.
Balance Barre
A classic Barre class that integrates a ballet barre to create a fat burning workout with exercises that will work your entire body. Movements are designed to improve lower body strength and balance.
Beginner Line Dancing
Learn the basics of Line Dancing or just come for the great exercise! You never need a partner but feel free to bring along some friends and have a lot of fun.
Body Barre
Pilates based workout designed to shape and tone postural muscles while building core strength. Incorporating classic ballet positions, this class is a combination of cardio and strength with high reps of small range of motion movements.
BODYPUMP®
This Les Mills barbell class is based on THE REP EFFECT TM, that exhausts muscles using light weights and high reps, to sculpt, tone & strengthen the entire body. Instructors coach scientifically-proven moves, pumping out encouragement, motivation & great music. Come early to set up.
BODYFLOW®
This is a yoga-based class for everyone. Bend and stretch through a series of simple yoga moves and embrace elements of Tai Chi and Pilates. Breathing control is a part of exercises, with options for those just starting. Strengthen your entire body and leave class feeling calm and centered. Bring your own mat.
Core
More than just crunches! This 15-minute class will target and strengthen the entire core.
Build and Burn
This total body toning workout hits all muscle groups using compound lifting methods and grounded (low impact) bursts of cardio to fire up muscles and provide strength and cardio benefits in a short amount of time. (Offered seasonally)
Cycling

This class is a great cardiovascular workout. Pedal through hill climbs, sprints, and many other challenging drills and exercises. All levels are welcome.
DrumFit
You will use drumsticks in a choreographed workout of cardio and core strength set to energetic, motivational music for 30 minutes. The remainder of the class will be spent on a yoga mat going through a series of poses.
Metabolic Blast
A dynamic mix of cardio and strength training using full body functional movements to gain strength and power. Equipment used includes: battle ropes, kettlebells, barbells, dumbbells and slam balls. Instructors bring their own personality – try different times to get variety in your routine.
Metabolic Strength
A high-energy time efficient cardio and strength class. This class is broken down into segments of quick, continuous cardio drill mixed with upper and lower strength work.
Morning Madness
A class designed to give you a high-intensity cross training workout, no two classes are alike. You will use a variety of equipment to keep your muscles guessing. Class meets at the north end of the second basketball court.
MuscleWorks
A total body strengthening workout doing compound & isolated exercises using resistance bands, dumbbells, bars, discs and body weight. This workout is perfect for any level as you pick your level of challenge. Come feel your MUSCLES WORK!
Step
This class helps get your cardio training in as you learn step aerobics patterns. Our instructors know how to break it down and cue effectively so choreography is easy to follow, yet challenging enough to get a great cardiovascular workout!
SPRINT®
A 30-minute High-Intensity Interval Training (HIIT) workout, using a bike to achieve fast results. Les Mills SPRINT® workout drives your body to burn calories for hours. Combine bursts of intensity, working as hard as possible, with periods of rest. Smash your fitness goals, fast.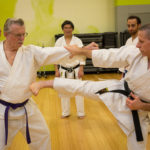 Tai Chi 
A martial arts class designed to reduce stress and improve balance while focusing on proper breathing and form.  Join Instructor Bill Pearson in the Fitness Classroom.  This class is included with your membership fee.
Yoga + Xtra Core
Deepen your core strength with this yoga class that offers traditional yoga postures, as well as challenging core focused exercises that will improve your core stamina and strength. Bring your own mat.
Yoga
Our instructors assist participants at all levels in improving flexibility, balance & muscular endurance. through a series of yoga postures and flows. The use of props is welcomed and encouraged. Bring your own mat.
ZUMBA®
Take the "work" out of workout, by mixing low-intensity and high-intensity moves for an interval-style, calorie-burning dance fitness party. Zumba® fitness classes are often called exercise in disguise. ZUMBA Gold® is for anyone looking for a class that recreates these moves at a lower-intensity.