The Rec Room, the Rec Center's Babysitting Service is for children ages six weeks to 11 years of age. Parents must be in the facility or using the Sports Park while using the babysitting service. Food, drink, gum, and candy are prohibited. Socks are required for admittance. Please refer to the current Babysitting Services Guidelines prior to dropping off your child.
Reservations are required. There is a 2 hour time limit, per shift, per day, for babysitting services. Click here to view the reservation guide.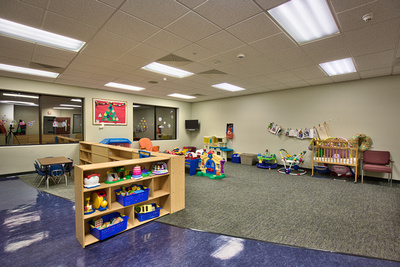 All children under the age of seven must be admitted into the babysitting room. Children ages 7-11 are also eligible for membership or guest privileges at the Rec Center.
Morning Hours
Monday – Friday: 9:00am – 1:15pm
Saturday: 8:00am – 12:00pm
Evening Hours
Monday – Thursday: 4:00pm – 7:30pm
Fridays: 4:00pm – 6:30pm  (Resumes September 10)
Fees
$2.75/hour – per child (6 weeks of age to 11 years).
Babysitting service hours are strictly enforced with an after hours late fee of $1.00 per minute per child.
EZPay Annual – A pre-payment plan for one year of babysitting services. $214 plus tax for one child and $428 plus tax for two or more children. For details please contact the Front Desk or a Rec Room staff member.
EZPay Monthly – A pre-payment plan as listed above for babysitting services where the payment comes out of your bank account or credit card each month.  Fees are $24.75 plus tax per month for one child or $49.50 plus tax for two or more children.