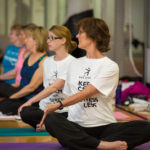 The Rec Center offers a variety of seasonal, short-term classes including Gentle Yoga, M.I.N.E., WATTS, Rec Center Runners, Outdoor Basic Training and more.
These specialty classes typically run 6 to 8 weeks and may include a participation fee. Watch the Home Page for announcements and visit the Information Center at the Rec Center for information on registration and upcoming class schedules.
Dietitian, Sandy Holterhaus and Fitness Instructor, Heidi Winterowd have developed a new class for women to be offered this winter at the Rec Center. M.I.N.E. (Mindful and Intuitive Nutrition and Exercise) is an eating and movement program to nourish your mind, body and soul.  This class will be team taught by Sandy and Heidi.
This class is designed to create a community of like-minded women who are willing to discard diet mentality thinking and learn to eat and move in a mindful, intuitive and healthful way.  The exercises and lessons in this class are devised to help participants build new and better relationships within themselves, with food, with exercise and with others.
The class will be offered different times throughout the year. Watch for announcements of the next session. Class size is limited to 12 participants.
The cost for this class is $144 for Rec Center members and $220 for eligible non-members. Price includes 13 instructional classes, materials, and a mindful eating celebration.
Beginner Running Program
Are you interested in running a 5k or an 8k this fall? Join
Kendra
twice a week for group led training runs on Mondays and Wednesdays from 5:00-6:00pm. Participants will receive a training booklet as well as weekly emails to help keep on track! This 8-week program will run Sept. 23 through November 15th – just in time for the annual Return of the Turkey Trot 5k/8k on November 16. Sign up online or through the app. $50 plus tax.