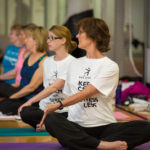 The Rec Center offers a variety of seasonal, short-term classes including Gentle Yoga, M.I.N.E., WATTS, Rec Center Runners, Outdoor Basic Training and more.
These specialty classes typically run 6 to 8 weeks and may include a participation fee. Watch the Home Page for announcements and visit the Information Center at the Rec Center for information on registration and upcoming class schedules.
Dietitian, Sandy Holterhaus and Fitness Instructor, Heidi Winterowd have developed a new class for women to be offered this winter at the Rec Center. M.I.N.E. (Mindful and Intuitive Nutrition and Exercise) is an eating and movement program to nourish your mind, body and soul.  This class will be team taught by Sandy and Heidi.
This class is designed to create a community of like-minded women who are willing to discard diet mentality thinking and learn to eat and move in a mindful, intuitive and healthful way.  The exercises and lessons in this class are devised to help participants build new and better relationships within themselves, with food, with exercise and with others.
The class will be offered different times throughout the year. Watch for announcements of the next session. Class size is limited to 12 participants.
The cost for this class is $144 for Rec Center members and $220 for eligible non-members. Price includes 13 instructional classes, materials, and a mindful eating celebration.
Many people are participating in the Rec Centers' 16-week training program which began on 
January 7
, 2019 and will run through April 27, 2019 to get participants trained for the Run the CRANDIC marathon and half marathon on April 28! The
Rec Center Runners program
 included the following:
16 week training manual (full and half marathon options)
Group Speed and Hill workouts – Tuesday nights at 5:00pm
Educational classes – Thursday nights at 5:00pm (see topics below)
Long Run Group runs – Saturday mornings at 7:00am
Rec Center Runners T-Shirt
Chances to win great prizes by showing commitment and hard work!
Go through training and complete the race with the Rec Center Runners!
Participants received a 16-week program manual that incorporates running and strength training to help build one's base slowly and safely to reduce the possibility of injuries. Each week they participated in four to five runs, two strength training workouts and two full days of rest.
Best of luck to all runners on April 28!